Western Conference All-Stars
Backcourt
Steph Curry, Golden State Warriors – This kid is a bona fide superstar. Curry is an excellent scorer (23.5 points a game), distributor (9.2 assists, good for second best in the League) and shooter with limitless range (career 43 percent from beyond the arc).
James Harden, Houston Rockets – Harden has really came into his own since leaving OKC, and has solidified himself as the best two guard in the League.
Frontcourt
Kevin Durant, Oklahoma City Thunder – Durant is having his best season ever averaging a whopping 31 points, 7.7 rebounds, 5.1 assists and 1.5 steals a game. Can you say MVP?


Kevin Love, Minnesota Timberwolves – If the Wolves can make a playoff push in the second half of the season, Love will find himself in the MVP race because his 25 points and 13 rebounds a night are extraordinary.
LaMarcus Aldridge, Portland Trail Blazers – Aldridge has established himself as one of the best big men in the game, and a big part of the Blazers surprising start to the season.


Bench
DeMarcus Cousins, Sacramento Kings - Cousins is averaging 22.6 points, 11.6 boards and 1.2 blocks a game on 49 percent from the field. Impressive numbers by any standard, but the scary part is he just turned 23.
Blake Griffin, Los Angeles Clippers - Griffin's been a star since his rookie year, but will he ever take his game to that next level?
Dwight Howard, Houston Rockets - Howard's been dominant on both sides of the floor in his flrst year in Houston.
Anthony Davis, New Orleans Pelicans - Davis gets it done on both ends, leads the league in blocks per game (3.0) and a budding superstar.
Dirk Nowitizki, Dallas Mavericks - Even at 35, the future Hall of Famer is still getting it done.
Damian Lillard, Portland Trail Blazers - The second year stud has been a big reason for Portland's fast start.
Ty Lawson, Denver Nuggets - Injuries to Russell Westbrook, Kobe Bryant and Chris Paul open the door for Lawson who is third in the NBA in assists (8.9).

Eastern Conference All-Stars
Backcourt
John Wall, Washington Wizards – Wall is having a career year, which has placed him fourth in the League in assists (8.5) and proving he is one of the brightest young stars in the League today.
Kyle Lowry, Toronto Raptors – This pick may be a shocker to some, but Lowry is more than deserving of this distinction. His play since the Rudy Gay trade is the primary reason the Raptors have found themselves vying for home court in the first round of the playoffs.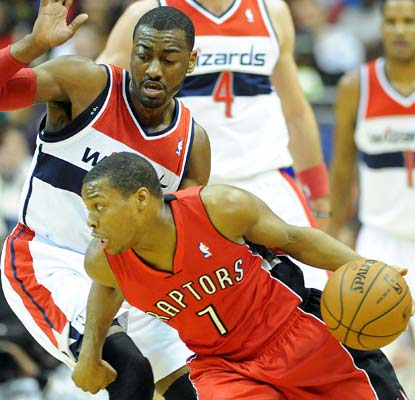 Frontcourt
Paul George, Indiana Pacers – George is the best player on the best team in the League.
Carmelo Anthony, New York Knicks – Anthony has been a perennial All-Star since entering the League a decade ago, and this season is no different.
LeBron James, Miami Heat – Is this dude really averaging 26+ points a game on 16.4 attempts a night? I guess that's what happens when you shoot 58 percent from the field, which is truly unbelievable (even for a four time MVP).


Bench
Andre Drummond, Detroit Pistons - Drummond is averaging 12.6 rebounds per game and is shooting 60 percent from the field. Not bad for a 20-year-old.
Al Jefferson, Charlotte Bobcats - Jefferson started the season slow, but is on an absolute tear as of late averaging 20.6 points, 11.5 boards, 1 steal and 1 block a game.
Paul Millsap, Atlanta Hawks - Millsap's 18 points and 8 boards a night have been a big reason for the Hawks surprising start. .
Roy Hibbert, Indiana Pacers - Hibbert's presence on both ends, particularly defense, make the Pacers the most complete team through the first half of the season.
Kyrie Irving, Cleveland Cavaliers - Irving has bounced back nicely after a slow start to the year.
Joakim Noah, Chicago Bulls - Noah's combination of length, skill and energy is very rare in today's NBA.
Dwayne Wade, Miami Heat - Missed a lot of games, but is having a very productive season when he does suit up. 54 percent from the field is, by far, a career-high for Wade.
------------------------------------------------------------------------------
On the Bubble (Players that just missed the cut)
West
David Lee, GS - Too bad the roster could not fit one more because Lee is more than deserving averaging 19 and 10 on 52 percent from the field.
DeAndre Jordan, LAC - Leads the NBA in FG percentage (64.1) and rebounds per game (13.9). Not to mention 2.5 blocks a night. Need I say more?
Pau Gasol, LAL - He's not the same player he was a few years back, but still one of the more skilled offensive bigs in the League.
Tim Duncan, SA - 14.5 points, 10 boards and 2 blocks a game at the age of 37 is truly remarkable.
Nicolas Batum, POR - Batum can do it all, and one of the most underrated players in the League today.
Serge Ibaka, OKC - Ibaka is having yet another productive season averaging 14 points, 9 boards and 2.5 blocks a game.
Chandler Parsons, HOU - 17.2 points, 5.8 rebounds, 3.6 assists, 1.2 steals on 50 percent and 38 percent from deep isn't bad for a second round pick.
Isaiah Thomas, SAC - At 5'9" Thomas may not be the biggest, but he is one of the most unheralded young guards in the League today.
Zach Randolph, MEM - Z Bo is a double-double machine and this year is no different (averaging 17.1 points and 10.6 rebounds a game).
Mike Conley, MEM - Conley brings it on both ends every night and deserves to be considered for an All-Star nod.
East
Michael Carter-Williams, PHI - 17.5 points, 6.7 assists, 5.9 rebounds and 2.5 steals a game are impressive numbers for anyone, but particularly for a rookie. I was not too high on MCW coming out of Syracuse, but after his first 30 NBA games he has proved me wrong.
Spencer Hawes, PHI - As evident by his statline - 13.8 points, 8.7 rebounds, 3.5 assists, 1.4 blocks, 0.7 steals on 48 percent from the field - Hawes brings a little bit of everything to the table. The true 7-footer worked hard this summer on improving his range and it has paid serious dividends to the tune of 41.4 percent from beyond the arc, which is better than sharpshooters Kevin Durant, Ryan Anderson and Dirk Nowitzki. Hawes deserves to be in the discussion to be an All-Star this year.
Lance Stephenson, IND - Stephenson's improved play has really helped the Pacers seperate themselves as the class of the East.
Aaron Afflalo, ORL - Though the Magic are struggling, Afflalo has done everything in his power to prevent that averaging 20.2 points, 4.5 boards and 3.8 assists on 46.5 percent from the field and a blistering 42.3 percent from deep.
Trevor Ariza, WAS - Ariza is a threat on both ends of the floor and having a career-year averaging almost 14 points a game on 39 percent from beyond the arc. Throw in his 6 reboards, 3 assists and 2 steals a game and you got yourself a hell of a season for the 10-year vet.
Brandon Jennings, DET - Jennings numbers are great (16.4 points, 8.2 assists, 3.2 rebounds and 1.6 steals), but his efficiency is putrid (37.4 percent from the field).
Thaddeus Young, PHI - Young is really starting to come into his own, and the Sixers would be wise to hold onto the athletic forward who is averaging a respectable 17.3 points, 6.4 rebounds and 1.9 steals a game.
Anderson Varejao, CLE - Varejao gives you a little bit of everything and a lot of effort every night and is averaging 9 points, 10.5 rebounds, one block and one steal a night on 49.4 percent from the floor.
Josh Smith, DET - His inefficiency in his first year in Detroit have been frustrating (41 percent from the field and 24 percent from deep), but 15.5 points, 7 boards, 3.3 assists, 1.5 steals and 1.4 blocks a night are hard to argue with.
Chris Bosh, MIA - Bosh's increased efficiency from long range is welcomed, but his rebounding numbers from the past couple years are laughable for a 6'11" starting center (6.8 a game).
The Injured All-Stars (Guys that could have been selected, if not for injuries)
West
Chris Paul, LAC - Was on pace to be the MVP front runner averaging a staggering 19.6 points, 11.2 assists, 4.6 rebounds and 2.4 steals a game prior to seperating his right shoulder.
Russell Westbrook, OKC - Westbrook was averaging a robust 21.3 points, 7 assists, 6 rebounds and almost 2 steals a game after returning from a torn meniscus before going down again due to knee issues.
Eric Bledsoe, PHO - Bledsoe was having a breakout year in his first year as a Sun and full time starter in the NBA.
Jrue Holiday, NO - Not an All-Star guard yet, but he's not too far away.
East
Al Horford, ATL - Horford's loss was a devastating blow to a Hawks team that was looking primed for a Top 3 seed in a disappointing Eastern Conference.
Nikola Vucevic, ORL - 13 points, 11 boards, one block and one steal a game on 51 percent from the field are impressive numbers for the 23 year old Montenegrin.
Kemba Walker, CHA - 18.7 points, 5 assists, 4.2 boards and 1.4 steals a game are All-Star-caliber numbers.
Brook Lopez, BK - Lopez was starting to come into his own offensively this year averaging 21 points, 6 boards and 2 blocks a game on 56 percent from the field prior to breaking a bone in his foot.
Quick Notes
The depth and size the Western Conference boasts is fairly substantial. I found several but that should be expected with season ending injuries to bigs Al Horford and Brook Lopez.

The backcourts in this year's game have been turned topsy-turvy with injuries to the biggest stars in the game. Injuries to Kobe Bryant, Chris Paul, Russell Westbrook, Derrick Rose and Rajon Rondo mean that several new faces should get a chance to crack the starting lineup in both the East and the West.

Speaking of Kobe, he will be an All-Star this year even though he only played in six games this season, but if there is one person that deserves to be nominated an All-Star simply off of name recognition it is Kobe Bryant. Boasting career averages of 25.5 points, 5.3 rebounds and 4.8 assists a game the five time NBA Champion is more than deserving of an honorary spot in this year's contest.

It pained me to leave an ultra-efficient guard like Tony Parker off all of the lists, but it had to be done; however, this was in no way an indictment on Parker or the season he is having. Parker is averaging a respectable 17.9 points, 6.3 assists, 2.5 rebounds and 0.5 steals per game, yet the Spurs are 4-0 without him this year. The Spurs are silently sitting atop the Western Conference standings (again), which further illustrates that Gregg Popovichs' system enables the team to succeed with or without superstars, particularly in the regular season. As great as Parker is, neither he nor his team are concerned with statistical accomplishments. Though his shooting numbers are phenomenal (as usual), this should be expected for someone who scores so many of his points from the paint similar to LeBron James.