Whether we want to believe it or not, athletes play an important part in our lives. Watching live sporting events can bring families together. Most sons and daughters follow a certain team because their mom or dad does. It's cool when you're five years old and can cheer for daddy's team.
Kids all over America are on basketball courts replaying Christian Laettner's famous shot over Kentucky in 1992 with 2.1 second left.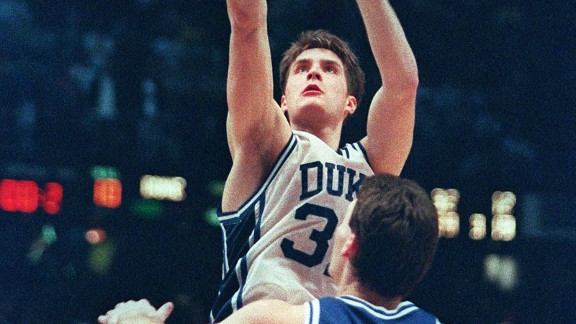 Kids dream big. They remake World Series games. It's the bottom of the 9th with the bases loaded, two outs and a full count and your team is down by 2. You need a big hit for the win. The kid takes his swing raises his hands and runs down to first having just "won the World Series." Kids can go to the batting cages with their mom and dad and do perfect impressions of Ken Griffey Jr's swing. They can emulate Albert Pujols or Cal Ripken Jr.
Athletes somewhere along the line have branded themselves into verbs. Tebowing is a fad that swept the world during the Broncos improbable run to the playoffs during the 2011 season. After each huge play, Tim Tebow would drop to a knee with his right hand to his head and speak to God. The Broncos won some games that year that they should not have. They defeated Chicago because of a fumble in overtime. They beat the Jets on a last second play. Denver even beat the Steelers in overtime on the first play with an 80 yard touchdown pass from Tebow to Demaryius Thomas. Tebowing was born during the 2011 season.
Fads in the NFL come and go. The NFL has done away with spectacular celebrations. No longer will we see Terrell Owens signing a football and throwing it into the stands. No longer will we see Chad Johnson take pom poms from cheerleaders and cheer with them. Some celebrations are still legal in the NFL. Colin Kaepernick has taken his touchdown celebration into the homes of America with Kaepernicking. After each touchdown, Kaepernick flexes his biceps muscle and kisses it. Cam Newton has a superman move he uses post touchdown. Deion Sanders would do "The Deion" dance every time he scored a touchdown. Youth football players emulate this dance after they make a pick six in Pop Warner.
The youth of America emulate athletes' every day. Whether or not athletes want to be role models, the truth is that they are. Our youth looks up to them. They try and recreate athlete's images within themselves. Lebron James is one of the most famous names in all of sports. People have used to phrase LBJ'd as just sure dominance over someone. For example "I just LBJ'd that test today." "I just LBJ'd that run today."
Michael Jordan has made more money with his brand than he ever did playing basketball. Americans line up at shoes stores for the release of the newest Jordan shoe. The Jordan shoe has become a status symbol in America. The MJ symbol is arguably the most popular symbol in sports. Fashion expert Jonte Roddy said of the Jordan brand "With a basic pair of sneakers most people will not pay you as much attention but with a pair of Jordans people are more likely to speak to you because they want to know where did you get those at or I've never seen those before and how did get those. It's like upgrading from a Honda Accord or any car that you see everyday on the road to a Mercedes Benz E class"
We have not only invited professional athletes into our homes through our televisions, but into our lives through imitations. We want to sink the winning putt, make the winning shot or have the game winning hit. We make these happen through the fantasy of pretending to be these athletes and we will be sure to be Kaepernicking after scoring the winning touchdown.