Everyone knew that, one day, Anthony Bosch would have to pay for his actions. Known for being the founder of the Biogenesis clinic that rocked the world a year ago, he was the reason why 13 players were suspended (led by Alex Rodriguez, but more on that later.) and 4 more were nailed with drug-related suspensions tied to Bosch's clinic. But this story was, sadly, just a start. Why? Because Anthony Bosch just surrendered to the DEA, pleading guilty to conspiracy to distribute anabolic steroids. Something that doesn't stop just with MLB players, as he was reportedly supplying high school kids with substances. Why is this important? It's pretty simple. Anthony Bosch will talk. He will give everything he owns and knows to the DEA, information that could lead to the naming of dozens and dozens of players not only in the MLB but in other sporting leagues in the states.
You want an example? Remember that a year ago, IBN Sports Wrap conducted an interview with a former assistant who told us that some NBA players like Jameer Nelson or even the so called King himself (LeBron James) were clients of Tony Bosch. (You can find the interview and the full write-up here.)
But the story doesn't end, it just keeps getting juicer as a well placed source is stating that Robinson Cano's name was brought up to the Feds during the investigation (Operation Strikeout) we still have no word yet if the FBI will reveal Cano's name in the coming weeks or if he's being treated as an witness in investigation at this time. It has also been announced that the DEA will make the new names public in up to a few months, according to TJ Quinn of ESPN. An announcement that might be the biggest PED's-related story in sports history and as usual, IBN will be here to provide you everything that may leak during the investigation.
But Bosch isn't the only one who fell today. 10 people were arrested, including … Yuri Sucart, Alex Rodriguez's cousin. Some might even remember that A Rod claimed in the past that Sucart was the one actually providing the Yankees slugger with PED's AND encouraging him to use them. Since then, Sucart filed a lawsuit against A Rod for $5 million last year. Will this lead to Rodriguez finally admitting what everyone already knows? Maybe. But the problem for ARod might be even worse than that or than anything linked with Bug Sellig or the MLB. Why? Because in denying taking any PED and denying that he never had obstructed justice, he took a huge risk. If the government finds that he lied during his radio testimony, he might have a new load of problems. As reported by the NYDN, Tom Harvey, a New York City criminal attorney who also acts as this paper's legal analyst, and who has brought common legal sense to Rodriguez and the Biogenesis case all along, said on Tuesday:
"I think A-Rod's best-case scenario is that all the information about his past drug use will be exposed as a result of the feds' arrests of Bosch and others. Again, that's his best-case scenario. Unlike MLB investigators, the feds have subpoena power and the ability to prosecute people for lying. The information the feds have gathered during the investigation could easily end up being revealed in court during the criminal prosecutions. And A-Rod could be called by either side to testify, subjecting him to questions about any and all of his prior drug use."
You read it right, the ability to prosecute people for lying. Will A-Rod's next career take place in a prison? Only time will tell us.
Picture of ARod's cousin being arrested :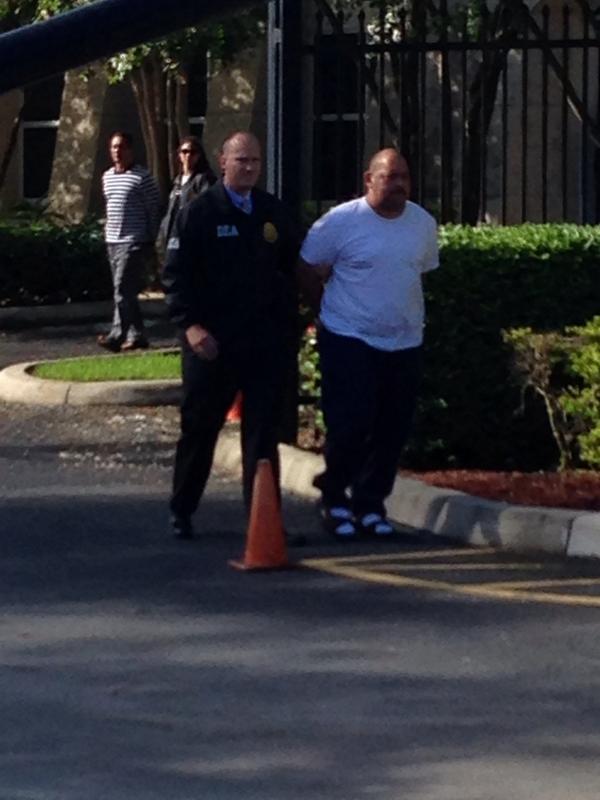 Picture of Tony Bosch being arrested :