It's been a fun offseason to keep track of after a quick NBA Finals. Free agency, trades, NBA Draft & trades during the draft. We're 6 days away from the season starting & we have some star-studded drama packed matchups right away on October 17th. Celtics @ Cavs 8:00 & Rockets @ Warriors 10:30 (Both games on TNT). But until then, I gotta do my list of things to look forward to before this season begins.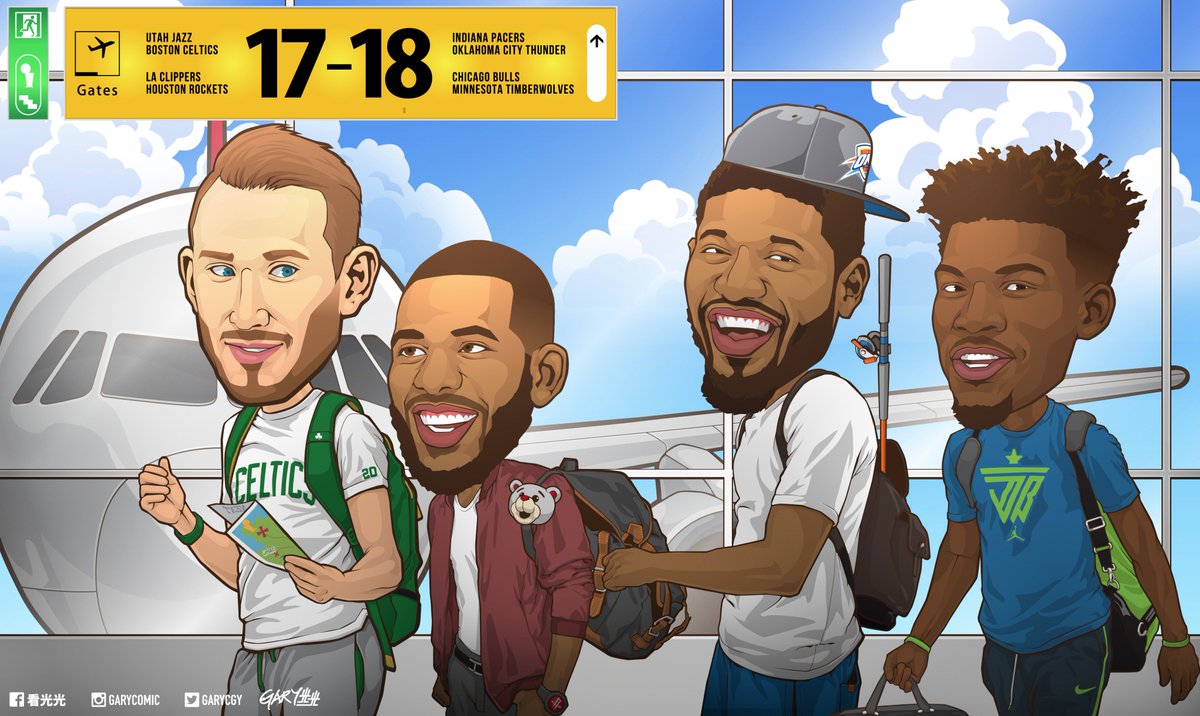 10. Is this the year the Minnesota Timberwolves make the playoffs? They've been bad for a while now. Minnesota hasn't made the playoffs since the 2003-04 season. So what did they do rebuild the franchise? 1st they acquired Andrew Wiggins in the 2014 NBA Draft in a trade with the Cleveland Cavaliers who initally drafted him #1 overall out of Kansas, he's averaged 20.7 & 23.6 points per game in his 1st 2 years in Minnesota & is on the verge of a 5-year/$148M extension. Do I think he's a max player 2 years in? Not yet. Andrew can attack the basket with the best of em but his jumpshot can be off & on shooting an even 45% so far in his young career, he's averaging 4.1 rebounds a game which is very low knowing he's a 6'8" small forward and he's averaging 2.1 assists per game. He's a solid defender but there's always room for improvement there too but I believe if he can raise those numbers up in rebounding & passing, he'll be a top 15 or top 10 player in no time. 2nd they drafted 6'5" shooting guard Zach LaVine in the 1st round with the 13th pick out of UCLA, he was just a high-flying dunker at first (2-time Slam Dunk Contest Champion) but he's getting with other parts of his game. Since his rookie season in 2014...he's increased his numbers in minutes per game, field goal percentage & points per game. Last season a torn ACL cut his season short but not before he averaged 19 points a game on 46% shooting, 38.7% from 3 & 83.6% from the free throw line on 37.2 minutes per game (47 games played). I saw he won't be back this season till January at least, he'll slowly get back to what he was doing before the injury. 3rd & lastly Minnesota drafted center Karl-Anthony Towns with the #1 pick out of Kentucky in the 2015 draft. Matter of fact through 2 seasons not only is he worth that #1 pick, he's the face of the franchise in my opinion. KAT won rookie of the year for the 2015-16 season averaging 18 points & 10 rebounds on 54% shooting, 81% from the free throw line & played all 82 games (32 minutes played per game).
Karl got better last season averaging 25 points & 12 rebounds on 54% shooting, shooting 36.7% from 3, 83.2% from the free throw line & played all 82 games again (37 minutes per game). Saying all that since drafting those 3...their records were 16-66 in 2014 (Andrew Wiggins & Zach LaVine's 1st season with the team), 29-53 in 2015 (Karl-Anthony Towns' 1st season with the team) & 31-51 last season. As young as they are, the Timberwolves had to have known that they're going nowhere fast. Which is why they made a blockbuster trade on draft night trading Zach LaVine, Kris Dunn & their 2017 1st round pick (7th overall) to the Chicago Bulls for 3-time All-Star Jimmy Butler who's played with current head coach Tom Thibedeau before. They also made moves during free agency signing Jamal Crawford, Taj Gibson & Jeff Teague after trading their point guard for the previous 6 seasons Ricky Rubio to the Utah Jazz. This team is primed to do some big things this season like make the playoffs for the 1st time in 14 years, longest active playoff drought going right now in the league.
9. What can we realistically expect from Lonzo Ball? Since the 2013-14 season, the Los Angeles Lakers have one of the worst records in the NBA going a combined 81-237 during that stretch. Moves had to be made up top starting with team President/controlling Owner Jeanie Buss firing his brother Jim who was the Vice President of Basketball Operations & Mitch Kupchak who was the General Manager. She ended up hiring Laker legend Magic Johnson as President of basketball operations & then Magic hired former sports agent Rob Pelinka to be the new General Manager. That was Magic's 1st move, his 2nd move was getting out of bad contracts like center Timofey Mosgov (4-years/$64M). So they traded their #2 pick from the 2015 draft point guard/shooting guard D'Angelo Russell & Timofey to the Brooklyn Nets for center Brook Lopez & the rights to the 27th pick in the 2017 NBA Draft which turned out to be Kyle Kuzma out of Utah. Having the #2 pick in the draft & making a trade like that told everybody one thing, we're getting Lonzo Ball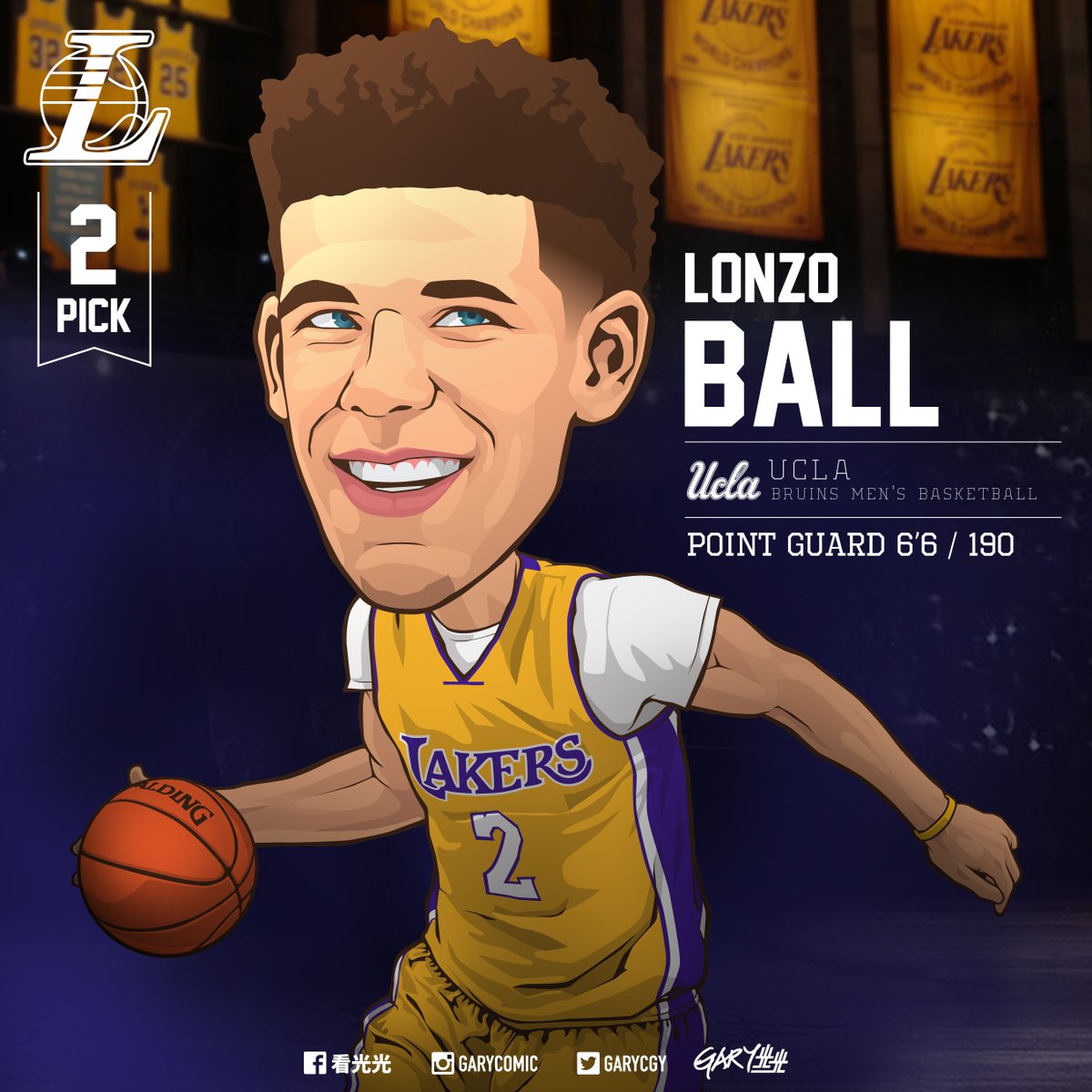 Well they did. Lonzo is a one-and-done out of UCLA averaging 14.6 points, 6 rebounds & 7.6 assists per game (Led the nation in assists). He led a UCLA team that went 15-17 the year before he got there to a 31-5 record before losing to Kentucky in the Sweet 16 of last year's NCAA Tournament. Lonzo shown what he can do in the Summer League averaging 16.3 points, 7.7 rebounds & 9.3 assists per game leading the Lakers to winning the Summer League Title. That's good but I'm not sure if he'll average numbers like that going against real pros on a night-in night-out basis. There's been plenty of criticism about the release of his jumpshot, I think that'll be fixed in due time but his passing ability is what makes him different from the rookies he'll play against this season like Markelle Fultz, Dennis Smith Jr & Josh Jackson to name a few. Seeing what he has to go up against in the West alone, he's going to struggle to win games the same way Andrew Wiggins & Karl-Anthony Towns did. That's just how the league works but with the Lakers building around him, the future is bright in LA.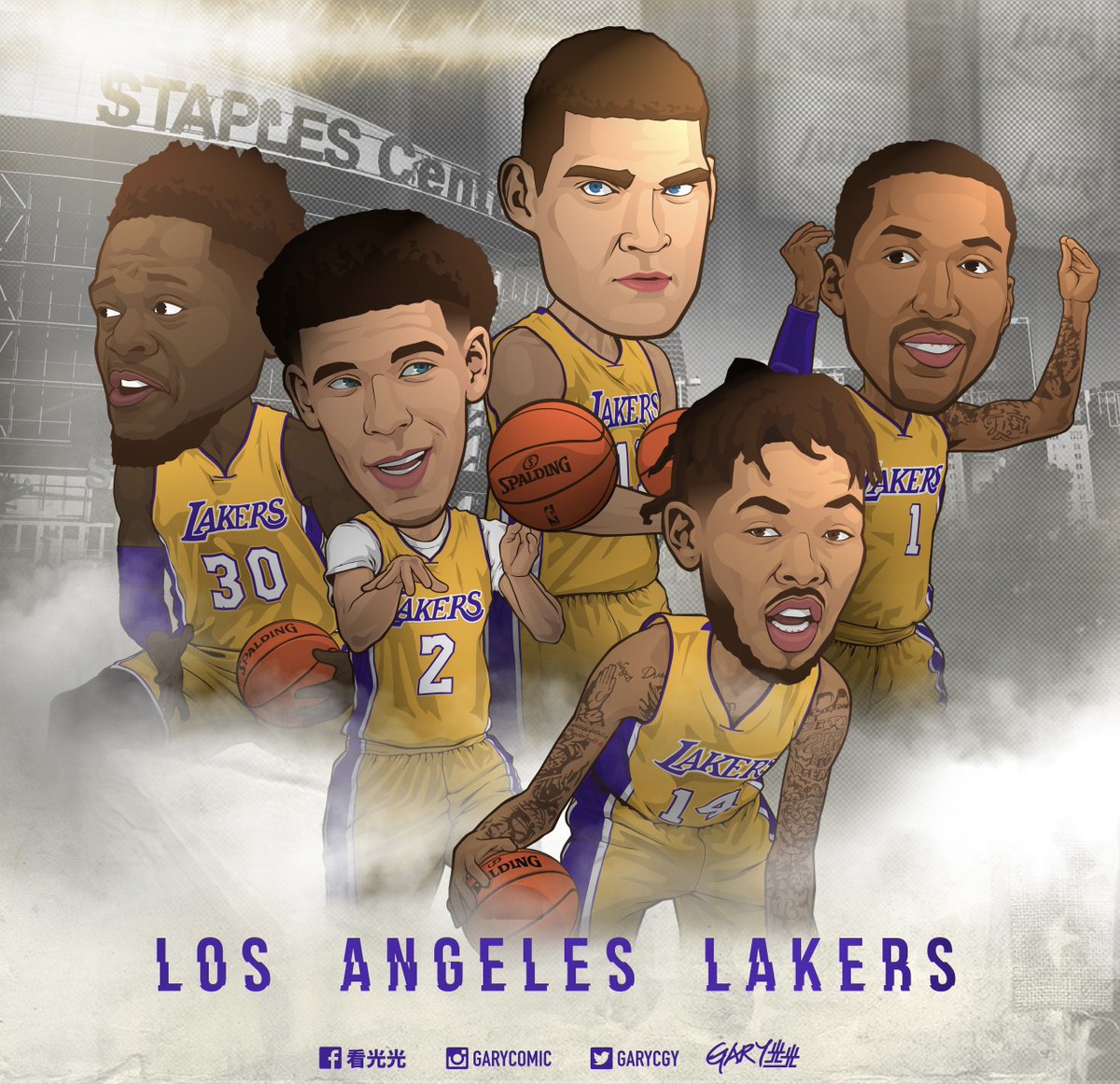 8. Who's gonna win Rookie of the Year? This is probably one of the best rookie classes in a while. Starting with Markelle Fultz drafted #1 overall, Lonzo Ball at #2, Jayson Tatum at #3, Josh Jackson at #4, DeAaron Fox at #5, Dennis Smith Jr at #9, Malik Monk at #11 & more. Lonzo's the one getting the most attention largely because of his attention-seeking dad but the rookie on the best team without a doubt is Jayson Tatum with the Boston Celtics. The guy I think can be a star right away is DeAaron Fox because his game is smooth mixed with John Wall-type speed plus he's getting better & better with his jumpshot. What I like most about him is that the dude can grab a game by the throat, ask Lonzo Ball he fell victim to that against Fox in the NCAA Tournament. Barring any injuries, I have DeAaron Fox winning Rookie of the Year.
7. Can the OKC Thunder compete with the Warriors in the West? Seeing Kevin Durant leave what he called "his home" in OKC to go to Golden State & win a championship had to be hard to watch for OKC fans. So what did General Manager Sam Presti do this offseason to help out Russell Westbrook? Step 1 : Trade Victor Oladipo & Domatas Sabonis to Indiana for 4-time NBA All-Star Paul George.
Sam Presti wasn't done yet, Carmelo Anthony had 2 years & $54M left on his 5-year/$125M contract with the New York Knicks. There was a few trade possibilities thrown out there for Melo. The Cleveland Cavaliers, OKC Thunder, Houston Rockets & Portland Trail Blazers were involved. But on September 25th, a deal was finally made as the Knicks trade Carmelo Anthony to the OKC Thunder for Enes Kanter, Doug McDermott & a 2018 2nd round pick. A couple things overlooked between the 2 trades, Sam Presti didn't have trade center Steven Adams & they only gave up 1 draft pick. Knowing the kind of players Melo & PG13 are, I'm surprised that the Pacers or Knicks weren't asking for more than what they've gotten. With the roster they have now, I think they can compete with Golden State, San Antonio & Houston but Russell Westbrook can't shoot 20-25 times a game. It'll ruin everything, 15-18 shots for each guy should be a good recipe of success for OK3 & Steven Adams has to average at least 15 points & 10 rebounds a game in order to give teams something else to worry about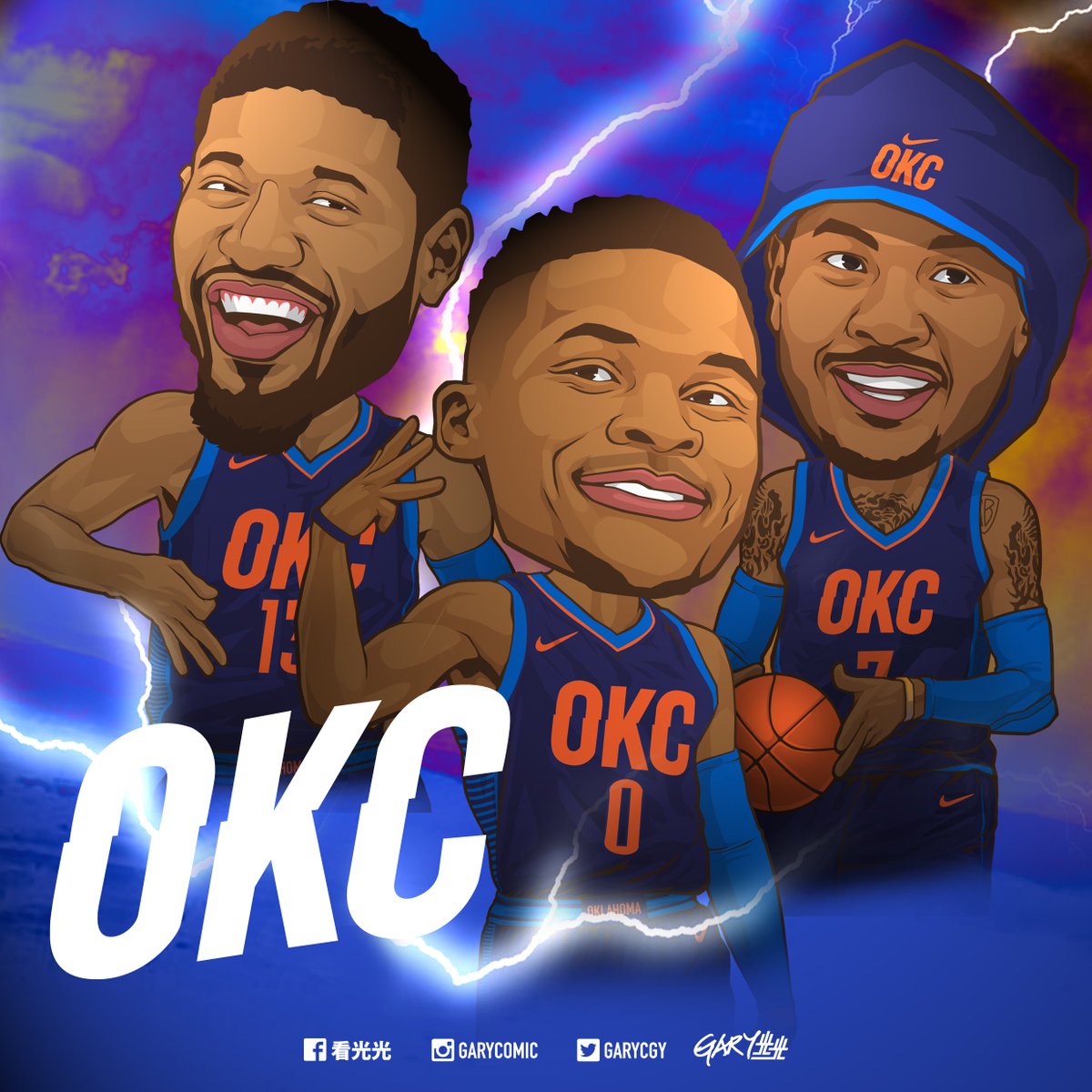 6. Trust The Process? This could be the year where the 76ers make a move to the postseason, it would be their 1st playoff apperance since 2012. In the West, they'd have no chance. In the East mostly run by the Cavs, Celtics & Wizards...I'll give the 76ers a shot. The Process started when they drafted Joel Embiid out of Kansas with the 3rd overall pick in the 2014 NBA Draft. Joel broke a bone in his right foot & missed the entire 2014-15 season then he suffered a setback in his recovery cause his foot wasn't healing fast enough, so he had surgery on the foot again & missed the entire 2015-16 season. The term "Trust The Process" became a joke rather than a legit slogan. Last season he finally played & gave Philly fans some hope for the future cause he was pretty good. Joel averaged 20.2 points on 46% shooting, 36% from 3, 78% from the free throw line, 7.8 rebounds & 2.5 blocks on 25.4 minutes per game (Played only 31 games cause he had a torn meniscus in his left knee. Underwent surgery in March). Despite the injuries/surgeries he's gone through, the 76ers still agreed to sign him to a 5-year/$148M extension showing that they're all in on him
In the 2016 NBA Draft, the 76ers drafted Ben Simmons with the #1 overall pick out of LSU. Ben can do a lot of things...he's freakishly athletic, can dribble, attack the basket & can pass with the best of em at 6'10" 230 pounds. The one thing that is a glaring weakness in his game is jumpshooting. There were times watching him at LSU, he'd dribble around the midrange area & look scared to shoot a jumpshot. Instead he'll force his way into attacking the rim. I believe he can improve on it, as soon as he gets that down the sky's the limit. Ben fractured his right foot during training camp & missed all of last season. I know he ready to go this season, I can't wait to see what he can do as the point guard of the 76ers.
In the 2017 NBA Draft, the 76ers drafted 6'4" shooting guard Markelle Fultz with the #1 overall pick after they traded the #3 to Boston. Big things are also expected from him too. During his only year at Washington...Markelle averaged 23.2 points on 47% shooting, 41% from 3, 5.7 rebounds & 5.9 assists in 35.7 minutes per game. Despite putting up those numbers, his Huskies only won 9 games. Gotta be honest, I didn't see him a lot last year in college. I'm looking forward to seeing Markelle going up against the Kyrie Irvings, Steph Currys & Russell Westbrooks on a nightly basis this season. Him & his awkward free throw shooting form. Markelle Fultz' free throw form needs some milk
5. How much damage can James Harden & Chris Paul create as teammates? Coming off an MVP season where James Harden averaged 29.1 points on 44% shooting, 8.1 rebounds & 11.2 assists in 36 minutes per game in his 1st year as the point guard...he was in the same position as Russell Westbrook in OKC. What can the front office do to make the Rockets better & compete with the Spurs & Warriors? Well General Manager Daryl Morey made a move no one saw coming...he traded Patrick Beverley, Sam Dekker, Montrezl Harrell, Darrun Hillard, DeAndre Liggins, Lou Williams, Kyle Wiltjer, a future 1st round pick & cash considerations to the Los Angeles Clippers for 9-time All-Star point guard Chris Paul. Shocked me cause even at 32 years old, CP3 is still worth your team's entire future. Knowing that Houston loves to shoot a lot of 3's, Chris fits right in to Mike D'Antoni's system & will be the same guy he's always been. This trade definitely moves James Harden back to the shooting guard position, a more natural position for him anyway. All they gotta do is be themselves, if they can play some defense I can see Houston taking down San Antonio & Golden State.
4. Who will win MVP this season? Anybody can win it as far as I'm concerned. It only took Russell Westbrook to do something that hasn't been done since Oscar Robertson since 1961, average a triple double for an entire season & record the most triple doubles in a season in NBA history.
LeBron James, Russell Westbrook, Kevin Durant, Steph Curry, Kawhi Leonard, James Harden, Giannis Antetokoumpo, Karl-Anthony Towns, Anthony Davis, Kyrie Irving, John Wall & more. This is my list of guys who could win MVP this season, like I said anybody could win it.
3. Can the Cavs get back to the NBA Finals? Losing in 5 games to the Warriors last season, it was hard to swallow but they knew they had a lot of work to do. I say that cause look at what they did this offseason, they made moves like signing Jeff Green....the Knicks let Derrick Rose walk in free agency & the Cavs signed him to a 1-year deal
The biggest part of the offseason for the Cavs happened when stories got out saying that Kyrie Irving no longer wanted to play with LeBron James anymore Those stories were true cause he said himself he wanted to be the focal point of his own team. Kyrie even asked to be traded during a meeting with Cavs Owner Dan Gilbert. Kyrie had a list of teams he wanted to be traded to....Knicks, Timberwolves, Heat & Spurs.
One of those teams that he didn't have listed was the Boston Celtics. They were interested but no one really knew except Danny Ainge if they could pull a blockbuster move like that off. Well they did...Boston made one of the more star-studded trades in recent memory trading 2-time All-Star point guard Isaiah Thomas, Jae Crowder, Ante Zizic & the rights to the Brooklyn Nets' 2018 1st round pick for Kyrie Irving. 8 days later after the deal was announced, the Celtics agreed to send a 2020 2nd round draft pick via the Miami Heat to complete the trade because Isaiah Thomas (hip injury) failed his physical.
Before the offseason was over, the Chicago Bulls & Dwyane Wade agreed to a buyout on September 24th. 3 days later the Cavs signed Dwyane Wade reuniting him with his BFF LeBron James, those 2 dudes won 2 titles in Miami during their 4-year run to the NBA Finals (2011-2014).
With everything in place, I look forward to see this new Cavs team build chemistry as they try to make the NBA Finals for a 4th straight season.
2. Can the revamped Celtics dethrone LeBron & the Cavs in the East? Losing in 5 games to the Cavs in the Eastern Conference Finals, 3 of the games weren't even close including a 44-point beatdown in Game 2. Danny Ainge knew they had a lot of work to do to keep up the Cavs, the work started in the draft when they had the #1 overall pick but decided to trade the pick to the 76ers for the #3 pick & drafted Jayson Tatum out of Duke.
On July 14th, Boston made another move by signing Gordon Hayward from Utah to a 4-year/$128M deal. One of the many big money deals signed this offseason.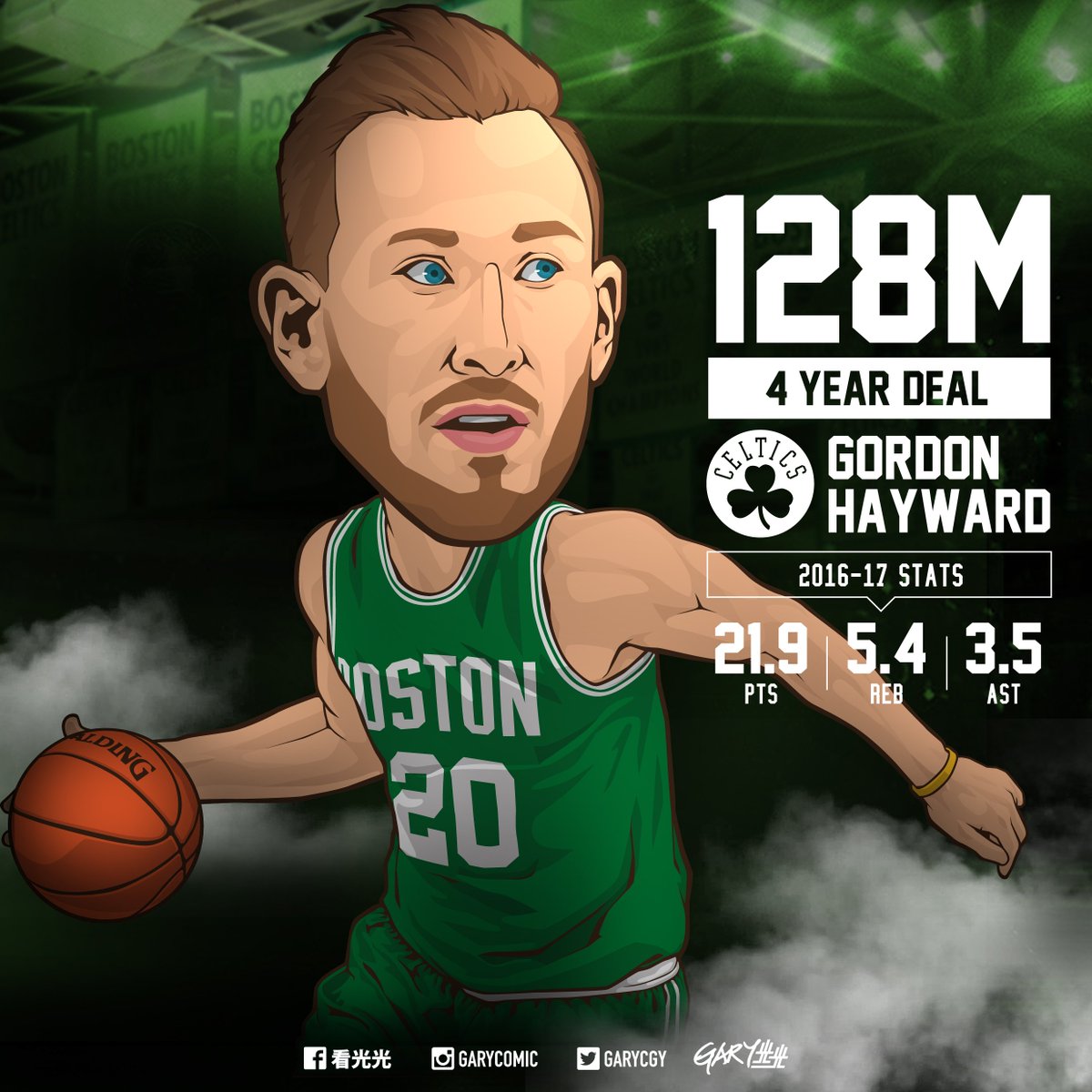 To clear up cap space to sign Gordon Hayward for that much money, they had to trade somebody & it was Avery Bradley who is unquestionably their best defender on the team. Boston traded Avery & a 2019 2nd round pick to the Detroit Pistons in exchange for Marcus Morris
Their biggest move came on August 22nd when they traded the heart & soul of the Celtics for the past 3 years Isaiah Thomas, Jae Crowder, Ante Zizic & the Brooklyn Nets 1st round pick to the Cleveland Cavaliers for 4-time NBA All-Star & 2016 NBA Champion Kyrie Irving. Kyrie wanted to be the focal point of the offense on his own team, he got his wish. Now it's on Kyrie to deliver & prove that he can lead a team to the playoffs without LeBron. Can he do this season? I doubt it but after this season, I can see Kyrie leading the Celtics to the NBA Finals.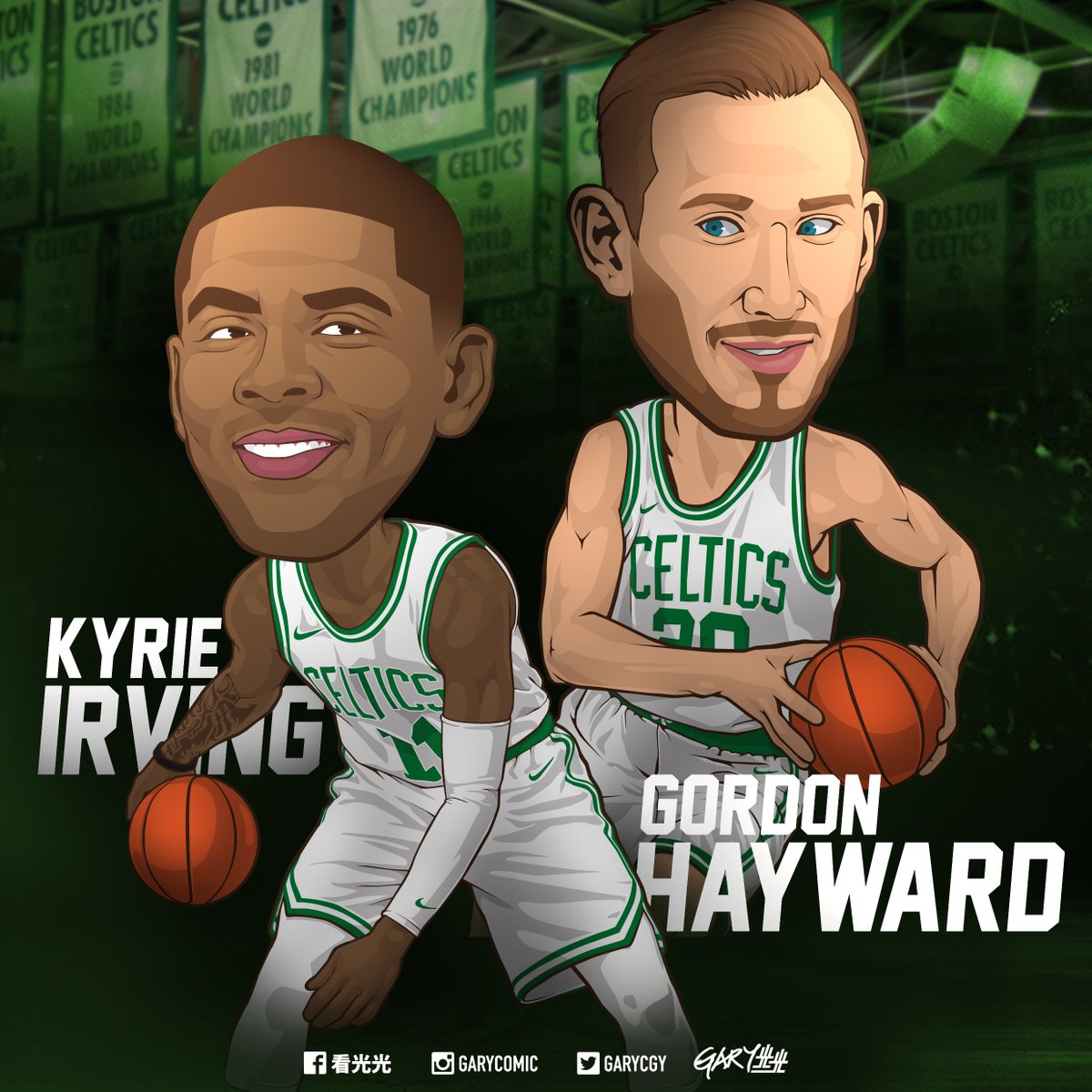 1. Who can take down the defending champion Golden State Warriors? That's what I'm gonna be looking for all season. They're coming off their 2nd title in 3 years where they went 16-1 in the postseason (12-0 in the West) & that 1 loss, the Cavs scored 86 points in the 1st half (NBA Finals record). That's what it takes to beat this team, they're the reason why OKC traded for Paul George & Carmelo Anthony, they're the reason why the Houston Rockets traded for Chris Paul. The Spurs only made 1 move...signing Rudy Gay because they had no shot to beat Golden State let alone compete after Kawhi Leonard went down with that ankle injury. I don't relate Boston's offseason moves to Golden State because they're just trying to get past LeBron & the Cavs. But Golden State also the reason why the Cavs made all the moves they made because all those teams I mentioned figured we're not gonna stop em, let's just outscore them.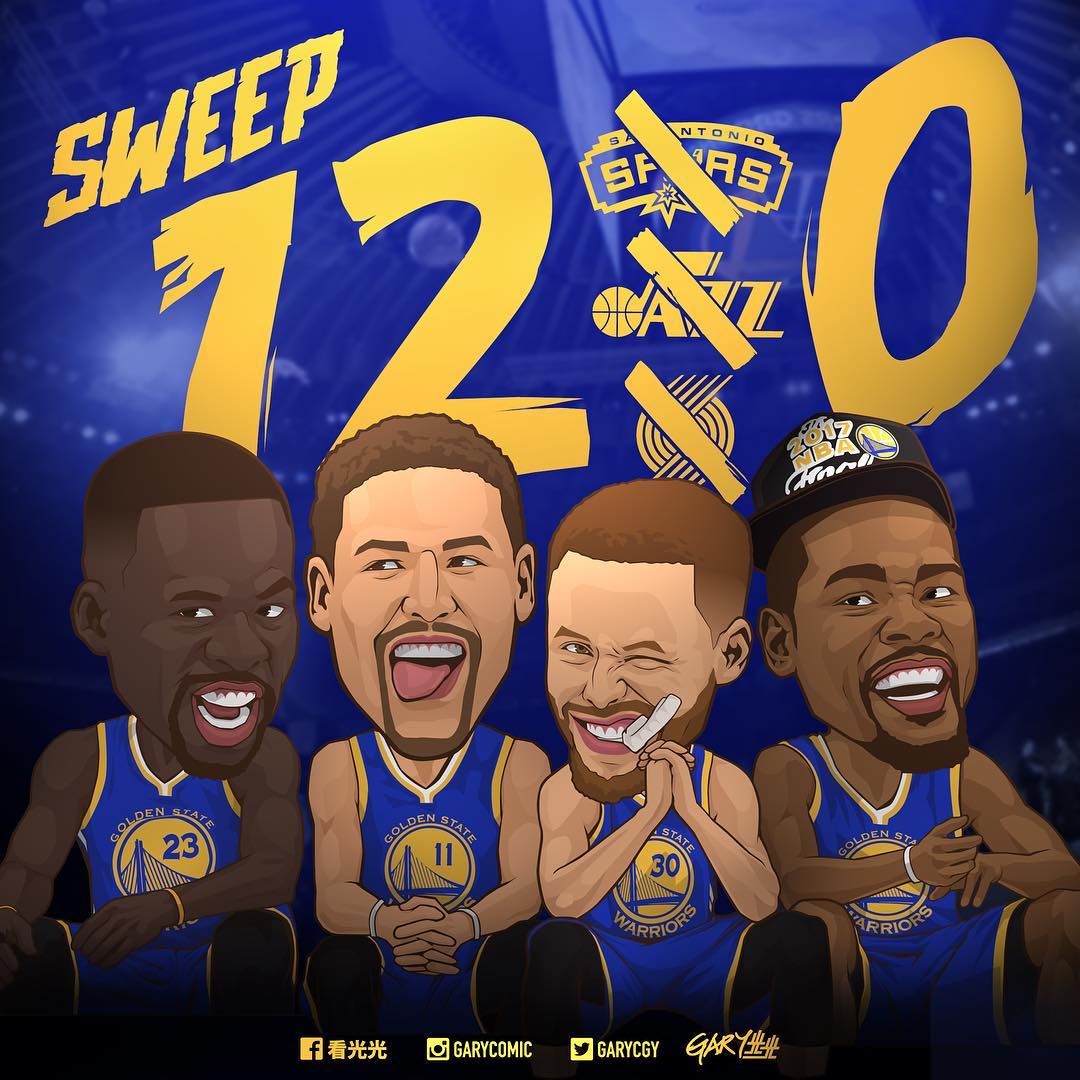 You'd think Golden State would be satisfied with the team they have....nope. Who did they sign this offseason? They sign Nick "Swaggy P" Young from the Lakers & Omri Casspi from the Pelicans. Just what they needed, more 3-point shooting. Good luck NBA